As a senior woman myself, I search constantly for those special gift ideas for senior women. We really do not want any more "stuff and things". We spent half our time decluttering as it is. Seniors appreciate convenience items, anything edible, and most of us enjoy beautiful scarves
and wraps to update our wardrobes.
Beautiful Gift Ideas for Senior Women
Scarves and shawls and jewelry help us update our wardrobes without adding to the clutter or taking up much space. We do love beautiful things and we still enjoy dressing up a little bit, if it's comfortable. A lovely soft warm scarf is always appreciated. A small piece of sentimental jewelry or family jewelry is a special gift indeed.
Leegoal Classic Cashmere Feel Plaid Long Pashmina Scarves Wrap

Personalized Family Necklace Birthstones Pendant- Birthstone Necklace

---
Funny Silly Gift Ideas for Senior Women
My dear friend Margie and I decided one day that we wanted a tutu – so we made ourselves one – and my daughter took a series of fun photos of us being silly. Those photos soon became products in my Zazzle store. This tile is a great way to thank a friend for all the fun times — and look forward to even more silly days together. You do have a friend like Margie, don't you? I hope so!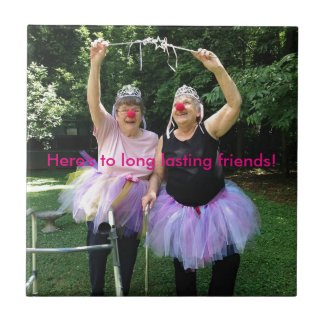 Friends + Tutus = Fun Times Small Square Tile
by
moonvine44
See other Old friends Tiles at
zazzle
---
Kitchen Gift Ideas for Senior Women
I bought these super lids for some of my friends at Christmas last year – and everybody seems to love them. I even bought one for myself. I am amazed at how tightly the lilypad seals the container. No more searching for lids for me. I just grab my lilypad. If I make tuna salad or chicken salad and need a quick lid, I pop on the lily pad and put it in the refrigerator, knowing it will be safe and fresh tomorrow.
---
More Gift Ideas for Senior Women on This Blog – Click to View
Christmas Gifts for Elderly Women
Gifts for the New Grandmother
Bohemian Gifts for My Matchless Friends
Gift Ideas for Alzheimer Patients