Searching for the best Christmas gift ideas grandkids will enjoy can be a real chore, unless you shop on line. You can order most everything you are looking for, and within a few days it will be at your front door. For me, it's so much easier than fighting traffic, parking, walking from store to store and making choices while trying to stay out of the way of other shoppers and clerks. I do love to shop from home in my pajamas. And if your grandchildren are out of town, Amazon will ship them to your grandchildren for you. They will even gift wrap for a small fee.  You can easily tell that I love great toys.  We have so much fun with our grandchildren. What a joy!
Best Christmas Gifts for a 2 Year Old Grandchild
Christmas is so exciting for two year olds.  It's the first "toy" Christmas, and those of us who are grandparents love to thrill them with wonderful gifts.   The Loops 'n Swoops Amusement Park will delight two year old girls and boys and entertain them for hours all through the year.  Little People Wheelies race and zoom around the tracks and they fit little hands perfectly.
Fisher-Price Wheelies Loops 'n Swoops Amusement Park

Fisher-Price Little People Disney Wheelies Simba

---
What Christmas Gifts for Kids – My Top Choices
Our grandchildren enjoyed these toys when they were in early elementary school.   I always had Lincoln logs here for them.  We enjoyed puzzles and mazes too.   And games!  We had a great time with games.   Give them some of the classics – like Monopoly – The Classic Edition
and Scrabble and teach them how to play.  Games and puzzles and books
are among the best Christmas gift ideas grandkids will enjoy for years to come.
Scrabble Crossword Game

Hello Kitty Junior Scrabble

Lincoln Logs Classic Edition Tin

Tinkertoy Classic Jumbo Set

---
Cool Christmas Gifts for Teenagers
I asked my teenaged granddaughter this weekend exactly what teenagers want for Christmas.  She said definitely iTunes gift cards
. But, I thought, grandparents want a gift that looks pretty under the tree, "How would you like to receive an Amazon Echo
like Poppy's?"   She said, "that would be the coolest gift ever!"  Most preteens and teens have not heard about the Amazon Echo.  The Echo was just introduced last year.  With the Echo, teens have an alarm clock they can talk to — "Alexa, set alarm for 5:30 a.m." and all the music they could possibly want.  "Alexa, play Taylor Swift music."  The Echo even tells jokes, spells difficult words, acts as a talking dictionary, and is fun for all ages.
Amazon Echo

Tablift Tablet Stand for the Bed

Apple iTunes $50 Gift Card

Silver Granddaughter Necklace & Bracelet

---
Cute Christmas Gifts for a Dog
I like to find a cute gift for our granddog, too.  Did you know you can even buy beer for dogs
?   I like to find unusual doggie gifts the dog will enjoy and the family will think is funny.
Squeaking Plush Beer Can Toys for Dogs

Best Dog Tug of War Toy

Merry Pet Room with a View Pet House

Dog Pet Steel Water Fountain

Note to Grandparents:   Personalized wrapping paper is fun!   If you have pre-readers in the house during the holidays, print large photos of them and tape the photo as part of your package wrap. Our grandchildren loved to find their own packages under the tree by searching for their photo.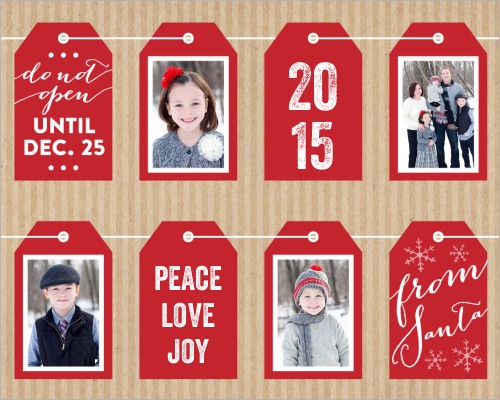 Gift Tags: From Santa s Gift Wrap red

Christmas Sentiments Gift Wrap Red