90th birthday party planning ideas are written just for you – the family member who seems to always be the one "in charge".   If your loved one is about to celebrate their 90th birthday, a birthday party should be in order!  Planning a 90th birthday party is fun but you have to consider so many things such as finding the perfect venue, dietary restrictions of the guests and family members,90th decorations , music and party favors.
Finding 90th Birthday Party Decoration Supplies will be easy as you browse thru the supplies and ideas on this page. You can buy a 90th multicolor cascade centerpiece, a 90th birthday candle set, 90th Birthday Lunch Napkin, 90th birthday coasters, 90th birthday balloons and so much more. Have fun planning and celebrating your loved one's 90th!
90th Birthday Party Invitations
Celebrating one's 90th Birthday is a milestone occasion. The celebrant's day should be extra special. Whether you are planning a huge party or an intimate gathering with family and close friends, you need to send out the invitations one to three weeks ahead of the party. You also have to put what time the party will end in the invitation. Why? This is simply a consideration for older guests who take prescription medications.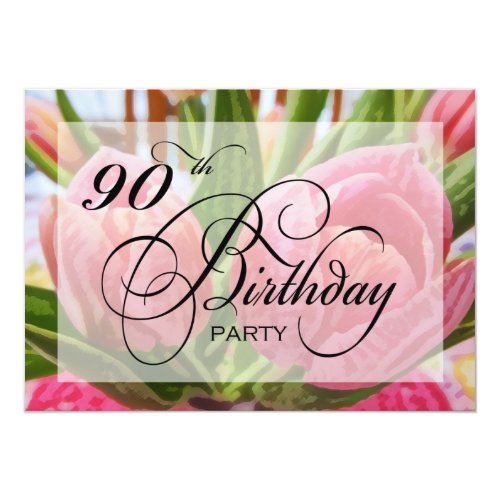 Floral Tulip 90th Birthday Party Invitation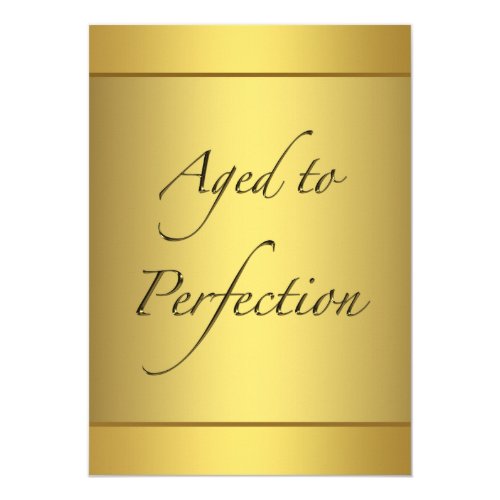 Aged to Perfection Invitation Card

Fun 90th Birthday Invitation Card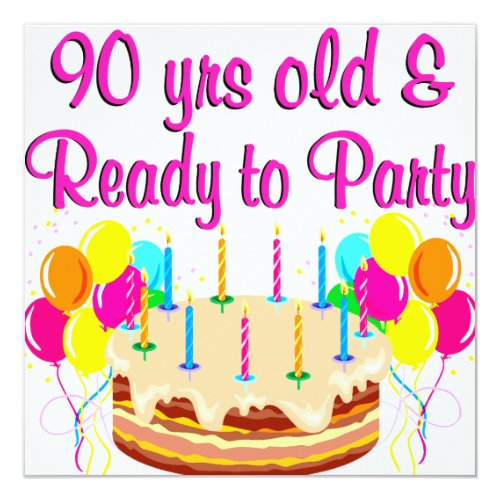 90TH PARTY GIRL INVITATION CARD

90th Birthday Party Planning Ideas to Consider

If you want the party to be successful,  include the celebrant in the party planning. It's important to get their input so you know exactly what they want and who to invite. Listen to what they want about the location, food, music and party favors.  Some seniors love a huge crowd of friends and family while others prefer smaller groups.
Finger foods are simple for most people to eat, and people with vision or dexterity issues will appreciate your thoughtfulness.  Remember, this party is not about showing off your culinary skills, but providing delicious food for your guests.
Check the entrance and the room for possible safety issues.  If you have older grandchildren, assign them to be escorts for the elderly who need assistance.  Properly trained, these youngsters will make the seniors feel like royalty.
Hire a photographer or designate a talented friend to take photographs.  These photos will be a treasure for the family.   After the party, upload your pictures to shutterfly and create a book of memories for the guest of honor.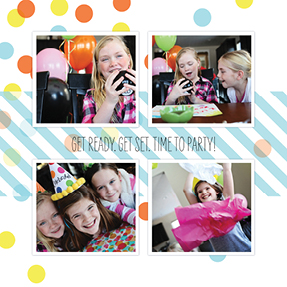 Best Day Ever Photo Book 7×9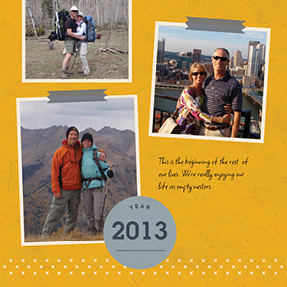 Better With Age Photo Book 5×7

90th Birthday Party Decorations
The 90th Multicolor Cascade Centerpiece will make a great addition to the party. It is pretty cheap, you can put one on every table. Its colorful, sparkly design is perfect for dressing up a table. It simply makes a statement that the party is as colorful as the one celebrating it. The size of the centerpiece is 18 inches high.
90 Cascade Centerpiece Party Accessory

Party Decoration Milestone Celebrations 90th

90th Multicolor Cascade Centerpiece

Blue and Silver Foil Cascade

Aside from decorating the tables with this dazzling centerpiece, you can also purchase 90th birthday foil balloons, 90 whirls, 90th birthday banner and 90th multicolored confetti.
90th Birthday Tee Shirts and Sweat Shirts
90th birthday tees are fun for your guest of honor to wear – and if he/she has a great sense of humor, they will enjoy one of these funny shirts. Be sure you let your celebrant help choose this shirt for the party.   You want to be sure you have a shirt that they will enjoy later, and even more important that it fits correctly.
Note:  if your party is more formal, please remember a pretty corsage for a lady or a boutonniere for a gentleman.   You want your guest to feel ever so special!
90th Birthday Sweatshirt

90th Birthday Women's T-Shirt

Funny 90th Birthday Ringer T

90th Birthday Dark T-Shirt

90th Birthday Gift Lists
90th birthday party planning ideas include gift lists.  You can ask guests to make a donation to the birthday lady or gentleman's favorite charity in honor of their special day.  You might also consider asking the guests to bring a written memory or a special photo.  (Remember to photograph special notes, cards and memories for your Shutterfly book.)
If you don't have any idea what to give someone who is turning 90,  a gift basket will make a perfect present. The basket is already wrapped in a cellophane and a bow so you don't have to worry about wrapping it. Gift card is already included.
90th Birthday Gift Basket – Live Your Life – with Trivia Booklet

90th Birthday Nostalgic Retro Candy Gift Box – Born in 1925

Still want more 90th birthday party planning ideas?
You will find a wide range of DIY 90th ideas on Pinterest.