A seventieth birthday is cause for celebration! Celebrate in style. You deserve it. Whether you are planning your own seventieth birthday party or planning a party for another seventy year old, these 70th birthday party ideas will get you thinking. Enjoy the process.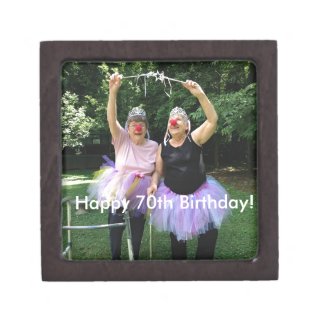 Friends + Tutus = Fun Times Premium Jewelry Boxes
by
moonvine44
Browse Old friends Premium Gift Boxes online at
Zazzle.com
70th Birthday Party Ideas for Ladies
Seventy year old ladies will enjoy a luncheon celebration!
1. Invitation List – Invite less than 10 best buddies.
2. Food – Arrange the meal with a local restaurant.
3. Transport – Hire a driver or recruit volunteers to provide transportation for each guest to and from the party. Buy a wrist corsage or a surprise to be presented to each friend. Boas and pearls are great fun too.
4. Decorations – Simply framed copies of old photographs of the guests can serve as decorations and mementos of the occasion. Or use magazines from the 1940's and 1950's as your decor. These old magazines are great topics for conversation and are available at many thrift stores as well as antique shops. Christmas tree pearl strands and old pearl costume jewelry on stick trees decorate a table in style.
5. Themes – Ladies of all ages enjoy a hat party. "White gloves and hat" is a fun theme for the invitation and attire! Outrageous hats and formal gloves make great party photographs.
70th Birthday Party Ideas for Men
Most seventy year old men like to be roasted by their friends.
1. Theme – If you do have a roast, prepare yourself for one of the most hilarious evenings of your life. At 70 years old, rehashing funny memories is a very popular pastime.
2. Ideas – Be sure to video the event so that he can enjoy again and again. In addition, you can show a short video of the life of the birthday boy during the evening. Do not try to schedule this showing. Turn it on and let guests watch at their leisure. These videos are easy to make. In fact, most of the large discount stores have photography departments that will make the video for you. You simply provide the photographs. You have now created two videos that will become treasures in the family for years to come.
70th Birthday Men's Hoodie Sweatshirt Made in 1945

Older Than Dirt Happy 70th Birthday Coffee Mug – 70 Year Birthday Gift Coffee Mug

25,567 Days Old But Who's Counting Happy 70th Birthday Ceramic Mug, 15-Ounce

70th Birthday Gift Coolie Made 1945 Can Coolies 2 Pack Black

70th Birthday Party Ideas for Men and Women
1. Gifts – Ask guests to give donations to a charity in lieu of a gift or bring a can of food for the local food bank.
2. Invitations – Create invitations on your computer. Use a childhood photo of the birthday boy/girl on the front of the invitation.
3. Keep it simple. The most important thing is the celebration!
I hope our 70th birthday party ideas have been helpful to you.  Enjoy the moments!
Martha Stewart – Happy Birthday Banner

Birthday Cake Stand Centerpiece

Birthday Balloons Giant Banner

Birthday Balloons Mini Cascade Centerpiece

Click here to find some great gift ideas for that 70th birthday party.
70th Birthday Gifts for Men
70th Birthday Gift Ideas for Women